Wings In Flight
Guernsey Birding ~ Aug 1st - 22nd '05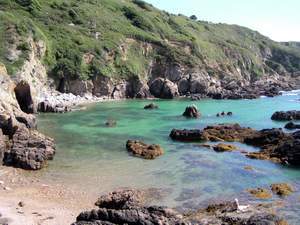 This August I was able to return to my home of Guernsey. It has been approximately 8 years since I was in last in Guernsey during the Summer months and it was so nice to see the island in full color! It abounds with nature of all sorts, a birders, botanists and naturalists paradise.
Because of where Guernsey is, about 80 miles south of England and 19 miles off the coast of France and its tiny size of 7 x 31/2 miles, it has a very mild climate and at the right times of year will have a mix of UK and Continental birds. August is not a very busy time for birds in Guernsey but a few migrants will begin making their way south at this time of year and may stop off at the islands before heading for their wintering grounds. So the list of birds I gained on this trip is fairly small and other than one morning walk I took with the local RSPB, the birds seen were those that were either in the garden or happened to be spotted on rambles around the islands lanes, beaches and cliff paths.
Common garden birds seen included European Robin, E. Starling, E. House Sparrow, Blackbird, Song Thrush, Chaffinch, Greenfinch, Great-tit, Blue-tit, Long-tailed tits, Dunnock, Wren (The US equivilant of the Winter Wren) House Martin, Common Swifts and Swallow. Due to the weather being very warm lots of flying ants would emerge from garden lawns which then rise directly up into the air. Then along comes a Herring Gull who gives the alarm and before you know it there are literaly HUNDREDS of Herring Gulls, Lesser and Greater Black-backed Gulls swarming above to eat the feast!
One morning I joined the local RSPB for a "morning weekday walk". Its a nice, casual stroll and this particular morning we were to walk in the viciinity of Moulin Huet Beach and cliff paths. We started off at around 10am and finished at approximately noon. Many of the garden birds mentioned above were seen along with Chiffchaffs feeding young, a possible migrating Willow warbler, lots of the usual Gulls, Common Tern, Eurasian Kestrels and Oystercatchers. Not just birds are looked at during RSPB walks however and lots of attention was given to local butterflies, wildflowers of the island, an interesting "Common Frog" and Mushrooms, including Boletus and gill types. It was a beautiful morning with very friendly folk and I enjoyed every minute of it!
There was an assortment of other birds around the island as well as on the boat to the neighbouring island of Herm. Unfortunately the Puffins, which nest around the islands, had left but there are always interesting birds around and more would have been seen had I spent more time birding! However, some of the other birds seen inland and along the coasts inluded - Cormorants, Shag, Grey Heron, Mallard, Tufted Duck, Sparrowhawk, Pheasants, E. Moorhen, E. Coot, Turnstone, Black-headed Gull, Common Gull, Kittiwake, E. Collared Dove, Rock Dove (Feral Pigeon), Wood Pigeon, Skylark, Short-Toed Treecreeper, Magpie, Carrion Crow, & Goldfinch. Approx 40 or so species.
It was a wonderfull trip with lots of sun, sand and fresh sea air! Temps ranged from approximately 65F-82F degrees.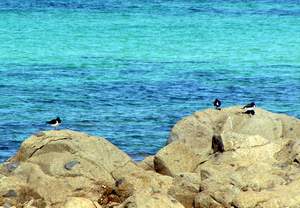 Eurasian Oystercatchers on rocks.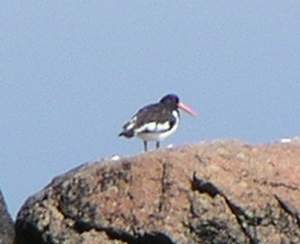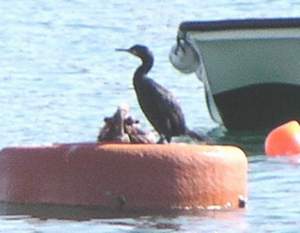 Left - Eurasian Oystercatcher. Right - Shag.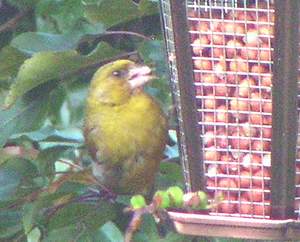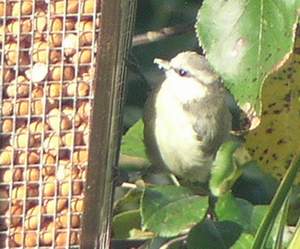 Left - Greenfinch. Right - Immature Blue Tit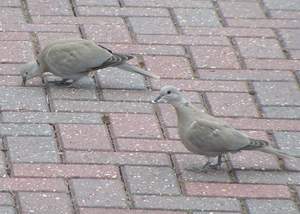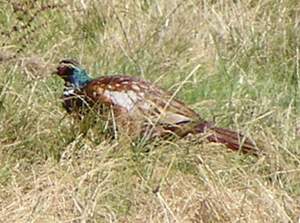 Left - Eurasian Collared Doves. Right - Male Pheasant.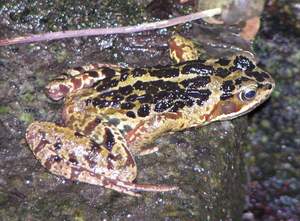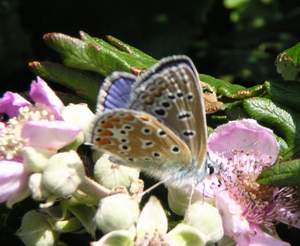 Left - Common Frog. Right - "Small Blue" Butterfly on Blackberry blossoms.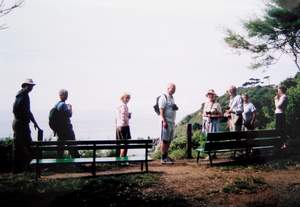 RSPB Birders.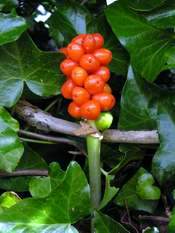 The fruit of the Guernsey Lilly.
---
Back to - BirdTrips
© Copyright 2019, All rights reserved. 780