Wings In Flight
Red-breasted Sapsucker Chase, Davis Mtns, West TX ~ 3/19/05,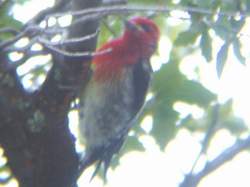 This was a quick trip to the Davis Mtns in West Texas where a Red-breasted Sapsucker had been for the past couple of weeks. The birds usual range is California and Western US and Canada.
The morning was very cold as it always is in the mountains and a front moved in bringing with it a sprinkle of rain, but luckily that stayed away until we saw the bird. The bird was found at 7:30am in the same tree it had been seen in for the past week or so and it was busy making a series of neatly organized holes around several branches. It was a beautiful bird with his red head and breast leading into a light yellow belly. It did not call or drum while we were there.
After we left there we drove around the mountains and then moved on to Lake Balmorhea to see if anything was there. Both Western and Clarks grebes were there, with the Clarks having 3 babies tucked into her back! Other birds included Pyrrhuloxia, Curve-billed Thrasher, male and female Northern Harriers, Chipping, Song and Black-throated Sparrows and a nice view of a Verdin. We were on our way home by lunch time. :-)
Above Photo - Red-breasted Sapsucker,
Copyright &copy Charley Amos 2005.
---
Back to - BirdTrips
Copyright © 2019, All rights reserved. 4267