Gardening For Wildlife...

The garden in these pages is just like a small oasis in suburban surroundings of North Central Texas. It consists of a mixture of mostly native and adapted drought tolerant plants and is Certified with both the National Wildlife Federation & Texas Parks & Wildlife as a Backyard Habitat / Texas Wildscape, resulting in a "Best of Texas Backyard Habitat" certification.
Gardening for nature is very important to me, to give back what has been taken from it due to increased habitat destruction.
More about gardening for Wildlife, Birds, Hummingbirds, Bees & Butterflies can be found on my Gardening for Wildlife page.

Birding...

I love to bird! From watching the common backyard birds to going away on field trips to other places in search of new birds, it is one of the most enjoyable hobbies I have. It can be done anywhere, at any time and can be done without any major expense, although be warned, once hooked there are always more places to visit, more toys to buy...!
Visit my Birding Page for more on this great hobby.

Purple Martins

Although I no longer host a Purple Martin colony, I have included a page about the trials and errors that I have experienced over the past 10 years of Martin landlording.
Purple Martin Page
Lots of information regarding Purple Martins can be found at the
Purple Martin Conservation Association (PMCA)
&nbsp
All content including photos on this site are Copyright © 2018, All Rights Reserved. 40727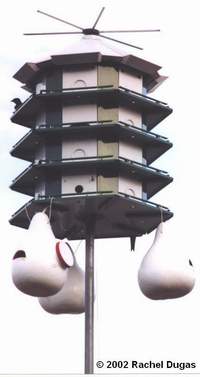 Trio Castle & Natural Gourds.